Women's Bikepacking Weekend
84.995kr.
3 days • Experience the best of the Westfjords with women from around the world
Experience the Westfjords in our women's three day guided intro to bikepacking trip.
9 in stock
Description
3 days • Experience the best of the Westfjords with women from around the world
Experience the Westfjords in our women's three day guided intro to bikepacking trip. This tour has a designated route, but food, accommodation, and resupply are up to the participants to choose as they wish.
This tour is for any woman who wants a short Westfjords cycling tour, whether as an add-on to a longer trip, or your first-ever bikepacking experience. We will hit the major highlights of the Westfjords Way, including Dynjandi waterfall and the famous Svalvogar low-tide road.
For those that are brand-new to bikepacking, we will provide materials to help you decide what to pack, where to load it on your bike, and how to pack your bike box! We also have rentals available here.
Number of spaces: 10
Dates: July 13-16 (3 days)
We believe everyone should experience the Westfjords the best way we know how – on a bike. But data shows that women often face barriers getting into cycling, especially bikepacking. The percentage of women who visit the Westfjords by bike is growing, and we want to help by offering accessible guided tours for women interested in learning about self-supported riding, or who just want to ride with a group of women from around the world. 
*We use the term women in the broadest definition to include cis, trans, or any women-identifying persons.
Route Highlights
Tour highlights:
Breiðalsheidi – an abandoned mountain pass

The villages of Flateyri, Þingeyri, and Suðureyri

Camping at Dynjandi waterfall, the pearl of the Westfjords

Learning more about bikepacking with like-minded women
Itinerary
Day 0; Thursday, July 13
Arrive to Ísafjörður at your leisure and build bikes at the Fjord Hub if necessary. A mechanic will be available for any last minute adjustments and you can stock up on any necessary accessories needed such as C02, tubes, or Westfjords memorabilia. Choose from the many hotels or Airbnb for this night's accommodation.
Optional: Group shakeout ride to Bolungarvík via the old road at 3pm. 30 kilometers.
Dinner and group meetup: Dokkan Brugghús at 7pm
Day 1: Friday, July 14
The trip begins with coffee and cake at 8am at Heimabyggð (optional). Depart Ísafjörður at 9am. This day features one of the hardest mountain passes of the route, but we will do it together as a group. The village Flateyri waits for us on the other side where we can visit the oldest family run store in Iceland and get food if necessary. The day finishes with a scenic paved ride to Þingeyri where camping is included or you can choose to stay in a guesthouse (additional). 68 kilometers with 1,140 meters of elevation.
Day 2: Saturday, July 15
Start the day by experiencing the local swimming pool and plan to roll by 10:00am. The day features the famous Svalvogar road, which was created by a farmer who carved the road with his small bulldozer called The Teaspoon. There is very little resupply until we arrive at Hrafsneyri, the birthplace of Jón Sigurðsson who led the Icelandic independence movement in the 19th century. The day finishes with camping under the pearl of the Westfjords, our Dynjandi waterfall. 74 kilometers with 1,050 meters of elevation. 
Day 3: Sunday, July 16
With our strength built up, the last day is the longest, but does not have as much gravel as the previous days. We will ride to Suðureyri where Fisherman will take us on their food trail walk. We finish the day back in Ísafjörður with a celebratory meal at Tjörhusið, an all-you can eat traditional Icelandic fish restaurant. 95 kilometers with 1,250 meters of elevation.
Inclusions
Price includes:
Detailed trip guide 

Dinner at Tjöruhúsið

Two guides from Cycling Westfjords 

Access to the museums and seafood trail in Suðureyri

Cycling Westfjords starter pack include microfiber towel, Icelandic delicacies and map

Transportation to/from Ísafjörður airport

Bike box/bag storage during tour

Accommodation booking (accommodation is additional)
Price does not include:
Flight or transfer to and from Ísafjörður

Bicycle and equipment (you bring your own)

Food, except at Tjöruhúsið

Accommodation on Day 0 and Day 3 (see accommodation options below)
Accommodation:
Camping is included while on tour

Camping is the only option for day 2 at Dynjandi

Hotels/guesthouses may be booked separately for Day 1 (contact us)
Additional Information
This trip is perfect for anyone who:
Identifies as a woman

Is looking for an introduction to bikepacking in a supportive environment at a comfortable pace
What you will need:
Recommended bike: Gravel bike or hardtail mountain bike with at least 40mm tires or similar (rentals available)

Bikepacking bags + sleep system (we can offer advice on bags and setup prior to your trip, but are unable to provide rentals this year)

Biking gear from wool base layers to shoe covers. A recommended gear and clothing list will be emailed to registered participants

Trip insurance that covers cycling
Meet Your Guides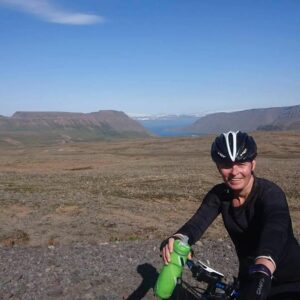 Halldóra Björk Norðdahl 
Halldóra (Dóra) is born and raised in Ísafjörður and is the brains of the Cycling Westfjords operation. When she isn't biking, she works at her knitting and clothing store Klæðakot in downtown Ísafjörður. In 2020, she graduated from Hólar University where she wrote a bachelor's thesis on the experience of bicycle tourists in the Westfjords which paved her way into starting Cycling Westfjords.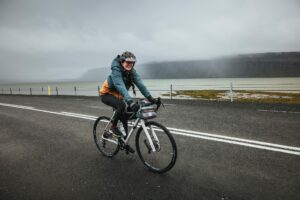 Lynnee Jacks
Lynnee moved to the Westfjords in 2021 after living all around the West Cost of the United States. When she isn't riding bikes, you can find her studying at the University Centre of the Westfjords, or off in the mountains on her next adventure.