The Passport routes
Our routes are developed around #TheWestfjordsWay, depending on your level of adventure. They follow a passport system where you collect points by taking pictures at designated points of interest. After you complete the route, you will receive a Certificate of Achievement.
The routes are recommended to be completed between a week and two weeks, with more time recommended to take on the Eagle. Accommodations on the routes vary between campgrounds and hotels/hostels and we know where they are and better yet, we got you discounts and special deals at many of the accommodations, restaurants, museums and more.
The routes are for those who want to ride the Westfjords Way self-supported and have access to all things Cycling Westfjords offers including our starter pack, local knowledge, Certificate of Achievement, and support system in case something goes wrong.
We also can provide you with a custom route and itinerary for your own Westfjords Way adventure. Be sure to send us an email at cyclingwestfjords@gmail.com for more info about our pre-drawn and custom routes.
The Merlin (Smyrill)
The Merlin stays mainly on the main course of the Westfjords Way. Even though it is the easiest one of them three it is far from being easy. The Merlin route is about 809 km long and 11,300 m elevation gain with 300 points. You can use the example route we have made for you or you can create your own with the point system. This level of accomplishment correlates to 300 points collected along the route. There are lots of options to change the route depending on what you want to see and do and still collect the required points.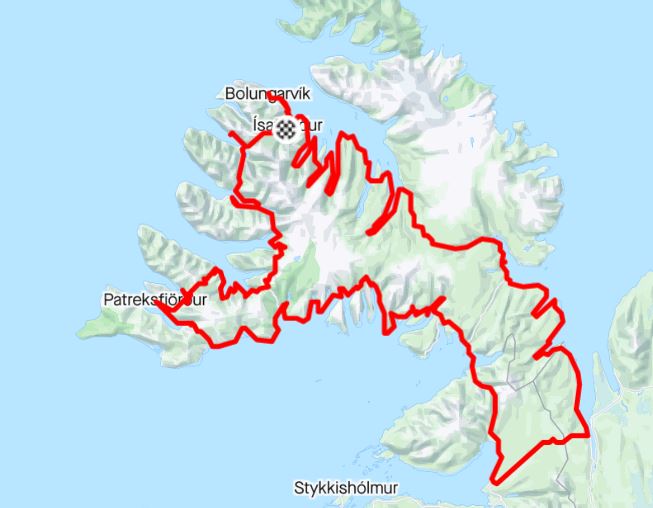 Example Route Highlights
809 km [500 mi]
11,300 m [45,000 ft] of climbing
18% gravel
Best for those who want to stay on the main roads of the Westfjords
The Falcon (Fálki)
The Falcon is a little bit more adventurous than the Merlin and incorporates more mountain passes and gravel. The route is about 1.044 km and 14.830 m elevation gain and has 450 points. Like the Merlin you can use the example route we have made for you or you can create your own with the point system. This level of accomplishment correlates to 450 points.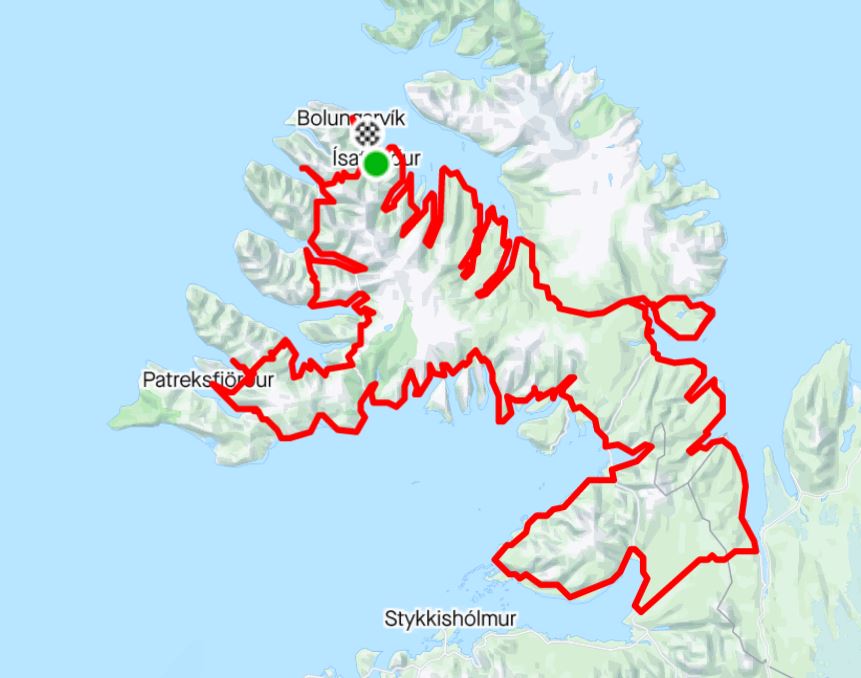 Example Route Highlights
1,044 km [580 mi]
15,000 m [49,000 ft] of climbing
31% gravel
Best for those looking for a good mix of gravel and road riding
The Eagle (Örn)
Ohh the Eagle. The Eagle is strong and relentless and nothing can stop them. They explore what others aren't able to. With about 1200 km and 19,400 m elevation or 600 points Eagles will grind through headwinds, rain, impossible hills and rough gravel and cross rivers. They will visit breathtaking places. Like the others you can make some changes to the example route and there are 100 bonus points in the system for reach the required points. They have to mind the time when they are doing his route, because some of the parts won't be clear from snow till the end of June or even beginning July. So they might be forced to make changes to his route. They also needs to keep in mind that the Eagle of the Year is the one with the highest amount of points (!)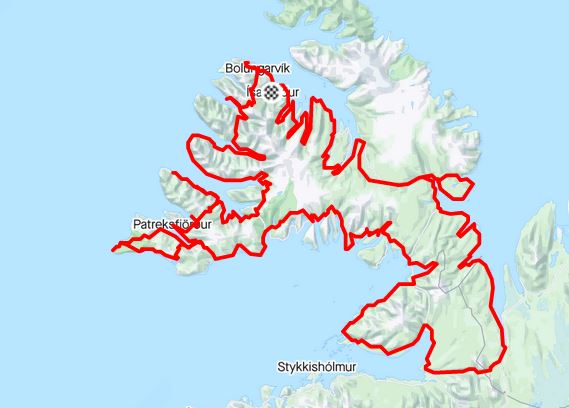 Example Route Highlights
1,200 km [715 mi]
19,400 m [58,000 ft] of climbing
50% gravel
Best for those who want to experience the lesser known corners of the region and don't mind a hike-a-bike
The Arctic Tern (Kría)
The Westfjords Way Challenge is our premiere five day four stage race along this route that is held 28th of June to 3rd of July 2022. The race traverses over 950 kilometers with each stage over 200 kilometers long. Riders are required to stop at at least two Cultural Connections, which are predetermined points of interests such as hot pots and family-run farms.
Those participating are deemed Arctic Terns for their fast migrations and predatory behaviors. The route is also available to those who want to participate at their own pace as a Passport Route.
| | | | | |
| --- | --- | --- | --- | --- |
| Part of the route | Points | | Part of the route | points |
| Ísafjörður town | 10 | | Flókalundur/Brjánslækur | 20 |
| Súðavík | 20 | | Rauðisandur | 10 |
| Litlibær Skötufirði | 10 | | Keflavík | 10 |
| Mjóifjörður bottom | 10 | | Látrabjarg | 20 |
| Hestakleif | 10 | | Hænuvík | 10 |
| Vatnsfjarðarnes | 10 | | Patreksfjörður | 30 |
| Steingrímsfjarðarheiði | 10 | | Tálknafjörður | 30 |
| Langidalur | 10 | | Selárdalur | 20 |
| Drangsnes | 30 | | Bíldudalur | 30 |
| Djúpavík | 20 | | Hrafnseyrarheiði | 20 |
| Norðurfjörður | 30 | | Svalvogar/Álftamýrarheiði | 30 |
| Hólmavík | 30 | | Þingeyri | 30 |
| Borðeyri | 10 | | Dýrafjarðarbotn | 10 |
| Laxárdalsheiði | 10 | | Önundarfjarðarbotn | 10 |
| Eiríksstaðir | 20 | | Flateyri | 30 |
| Búðardalur | 10 | | Breiðadalsheiði | 20 |
| Klofningsvegur | 20 | | Suðureyri | 30 |
| Flekkudalsrétt | 10 | | Reiðhjallavirkjun | 20 |
| Gilsfjörður | 10 | | Bolungarvík | 30 |
| Reykhólar | 20 | | Bolafjall | 10 |
| Mjóifjörður | 10 | | Skálavík | 10 |
| Þingmannaheiði | 20 | | | |