A Recap of the 2022 Arna Westfjords Way Challenge
On July 3, 40 of 57 riders finished the inaugural Arna Westfjords Way Challenge (WFWC): a 960 km [595 mi] race through endless fjords and mountain passes, all under the 24 hour arctic sun. The five day stage race challenged everyone with long days in the saddle, and offered an overwhelming sense of community and accomplishment to all who took on the challenge.
Results
Many riders went in with a mentality of completing the challenge, taking it at a slower pace and enjoying the Cultural Connections along the way. But the lead group pushed hard and found a competitive field to the podium.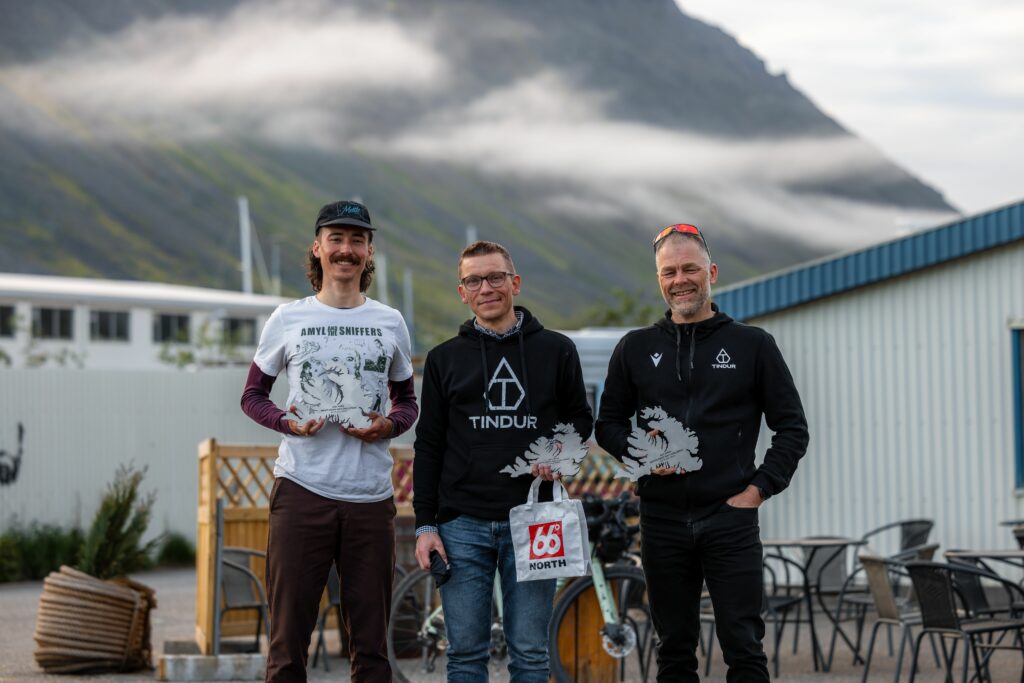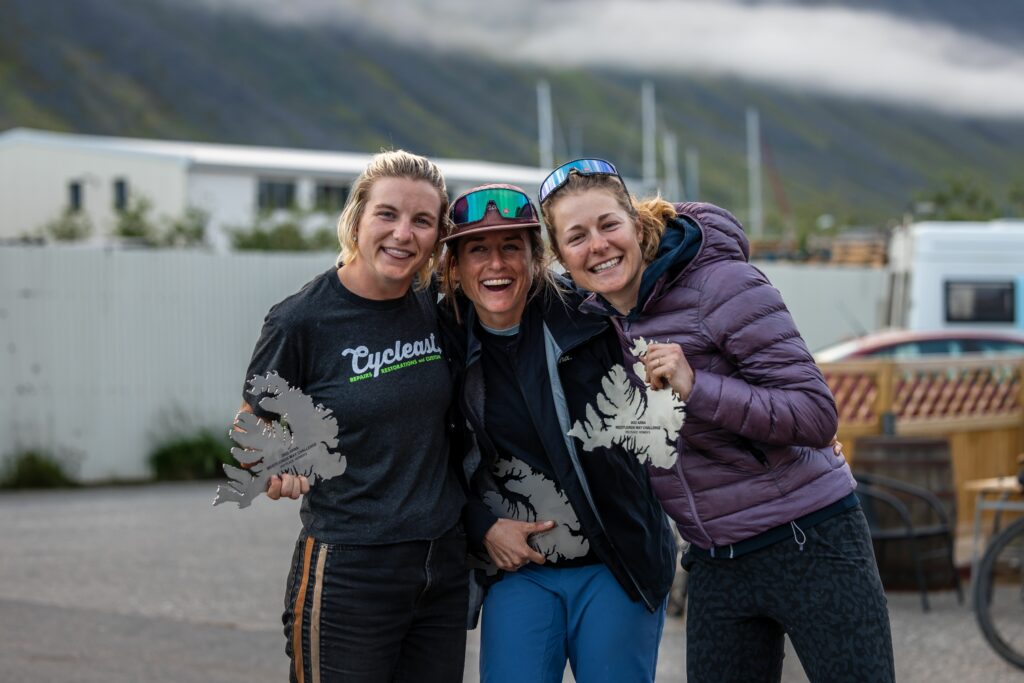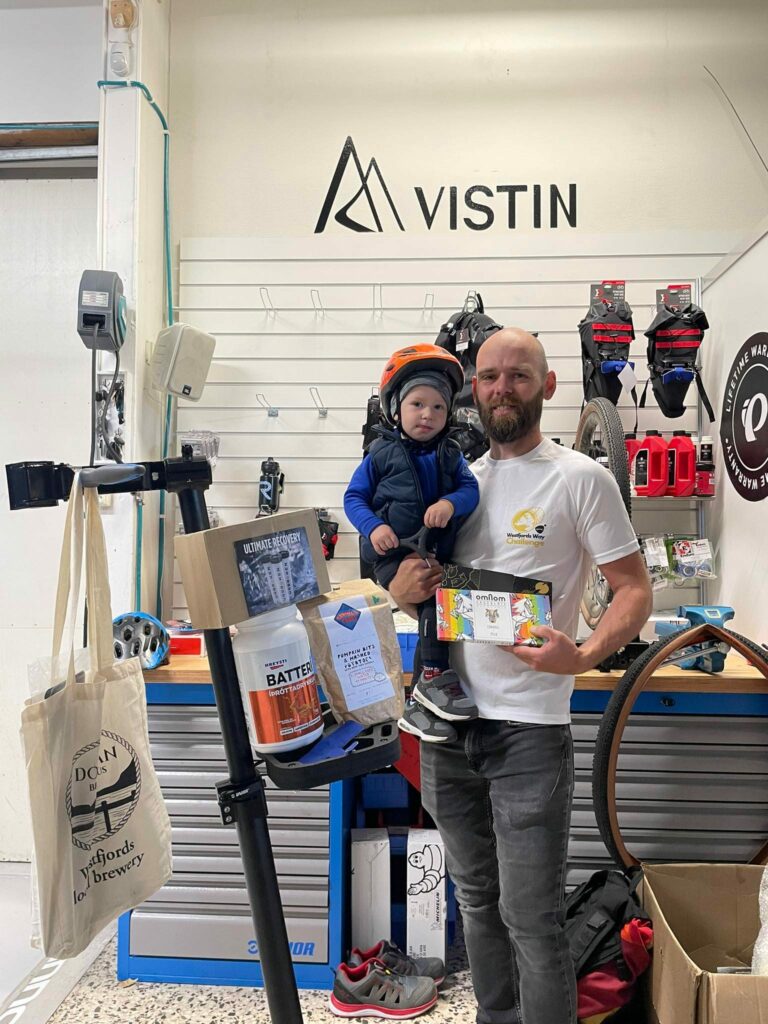 Culturalist Award: And perhaps most importantly, the prize for most time spent at Cultural Connections was awarded to Bergur Benediktsson!
More Than Just a Race
From the beginning, the WFWC was meant to be more than just a race. The idea came after Chris Burkard, Lael Wilcox, Rue Kaladyte, Payson McElveen and Nichole Baker established the bikepacking route for the Westfjords Way in September 2021. Together with local riders and cycling organization Cycling Westfjords, they discussed a vision for a stage race that would connect the region and bring a diverse group of local and international riders together while enjoying everything the Westfjords has to offer.
The event would be sure to bring more bike tourism to the quickly developing destination, and organizers took the opportunity to implement an entirely new race format: one that immerses riders in local culture by pausing time at predetermined points of interests called "Cultural Connections." Riders could choose from cafes, museums, and of course take a dip in the local hot pots.
The race format was met with overwhelmingly positive feedback from riders and the local community. As they moved around the Westfjords during race week, business owners had dot-watching live on their computers, refreshing intently to see when the next group would arrive to visit their establishment.
Race Highlights
Riders were able to take time to meet locals, learn about the places they rode through, and meet other riders from around the world. Countless stories and moments of connection marked the week with a sense of a once-in a lifetime adventure.
For many riders, the first stop of the race was Litlibær cafe, which kicked off the theme of community and conversation over waffles and coffee that would continue throughout race week.
On day two, Holar Farm (a family-run animal rescue) welcomed riders like family with cheering and homemade cakes and coffee. They stayed up past midnight to meet the last riders on the race course to make sure they got something to eat before the final stretch.
At the end of day three, FLAK welcomed riders with good vibes, beer and an authentic Icelandic fish fry in Patreksfjörður before everyone got to sleep in and enjoy an adventure day.
At the end of an adventure (rest) day, riders met at the Patreksfjörður community center base camp. To get the energy back up for the final stage midnight start, riders took turns sharing stories about the race and other adventures before a mass rollout under the midnight sun.
For the next few hours, riders pushed up two big passes together before a cold descent into Bíldudalur, where Vegamot Cafe opened at 3am as the first Cultural Connection of the day. Waffles and coffee kept coming as riders filled the cafe with life in the early hours of morning.
After one more mountain pass, riders descended into Dynjandi waterfall, where Fisherman met them with warm fish cakes to fuel before the next stretch of Stage Four, the low tide gravel road cut out of the side of a mountainside.
Just before the final stretch, Kaffi Sól welcomed riders with free hjonabandssæla (oatmeal cake with rhubarb) and coffee. The warm hospitality came just in time, providing riders with a last bit of fuel for the final and most challenging mountain pass of the race.
After the break, riders made their way over the pass, but not before navigating one of the week's biggest adventures: crossing a 30-meter snow bridge before the final descent back into Ísafjörður.
Riders met back up at Dokkan Brugghús for an awards ceremony to celebrate their accomplishments, and the final pier jump solidified the route completion before riders started heading home the next day.
Looking Forward
The vision of the race was to bring the Westfjords region together in a way that encompasses culture and local knowledge/representation and provides space for cultural exchange for riders. With this in mind, registration opened early to Icelandic riders, and they represented 25% of the total race field. The race also featured a lineup of 16 Icelandic sponsors including title sponsor Arna, a lactose free milk company based in the Westfjords. In order to allow for a diverse and welcoming start line, organizers also limited men's entries so there would be more space for femme, women, trans, and non-binary identifying participants, and offered a BIPOC rider scholarship covering race entry and travel for two riders.
The unique setup of the race, the unbelievable location and opportunities for connection with local culture and other riders made this race truly unique. Preparations are already underway for next year, and Cycling Westfjords is looking forward to another event that helps pave a new chapter in cycling history: one that promotes and practices inclusivity for all people, and encourages a meaningful interaction with people and place.
You can get involved by sharing information about the race with your cycling community. 2023 dates and registration info will be announced this fall. Race updates are shared via cyclingwestfjords.com, Facebook and Instagram.

Thank you to our sponsors for making this dream become a reality. Arna, Fisherman, Borea Adventures, Saltverk, 66North, Corsa, Vestfjarðastofa, Purple Hat, University Centre of the Westfjords, Hreysti, Reiðhjólaverzlunin Berlin, Hydro Flask, Dokkan Brugghús, Komoot, Kubbur, Grainly Foods, Orkubú Vestfjarða, Unbroken, and Uppbyggingarsjódur Vestfjarðda.
The Westfjords Way Challenge is Iceland's first self-supported ultra-endurance stage cycling race. The event prioritizes cultural connection through Icelandic rider representation and required stops at natural and cultural points of interest to complete each stage. The race is also committed to holding space and providing opportunities for historically underrepresented communities in the outdoor industry including BIPOC (Black, Indigenous and People of Color) and FWTN-B (femme, women, trans and non-binary riders). The inaugural race followed the mixed road and gravel route of the Westfjords Way for a total of 960 km over 5 days, from June 28 – July 3, 2022.
*Photo credits belong to Thrainn Kolbeinsson, Rugile (Rue) Kaladyte and Carlie Lamke