Iceland's First Ultra-Endurance Stage Race is focused on Inclusivity and Cultural Connection
Calling all women, femme, trans, non-binary, and BIPOC riders– there is still space to register for the Arna Westfjords Way Challenge ultra-endurance stage race!
This summer (June 28-July3), the remote Westfjords of Iceland will host the first-ever Arna Westfjords Way Challenge (WFWC): a 960 km [595 mi] race through endless fjords and mountain passes, all under the 24 hour arctic sun. The twist? To complete each of the four stages, riders will be required to stop and enjoy the 'Cultural Connection' points along the way. These are predetermined points of interest scattered throughout the Westfjords like steaming geothermal hot pots, family-run farms, museums, and more waterfalls than participants, where race time is stopped and riders are encouraged to relax and interact with local nature and culture. Between long days in the saddle, hot pot soaks, meals shared together at the end of each day, riders will create lifelong friendships with everyone else who took on the challenge.
The Westfjords was recently nominated as Lonely Planet's top region to travel to for 2022 and it is a bike rider's paradise. With limited traffic, an almost even split between gravel and pavement, and the ability to fill up your water bottle from any roadside stream without a filter, resources are abundant to keep you moving. While there can be long distances between villages, welcomed Cultural Connections are frequent and rejuvenating.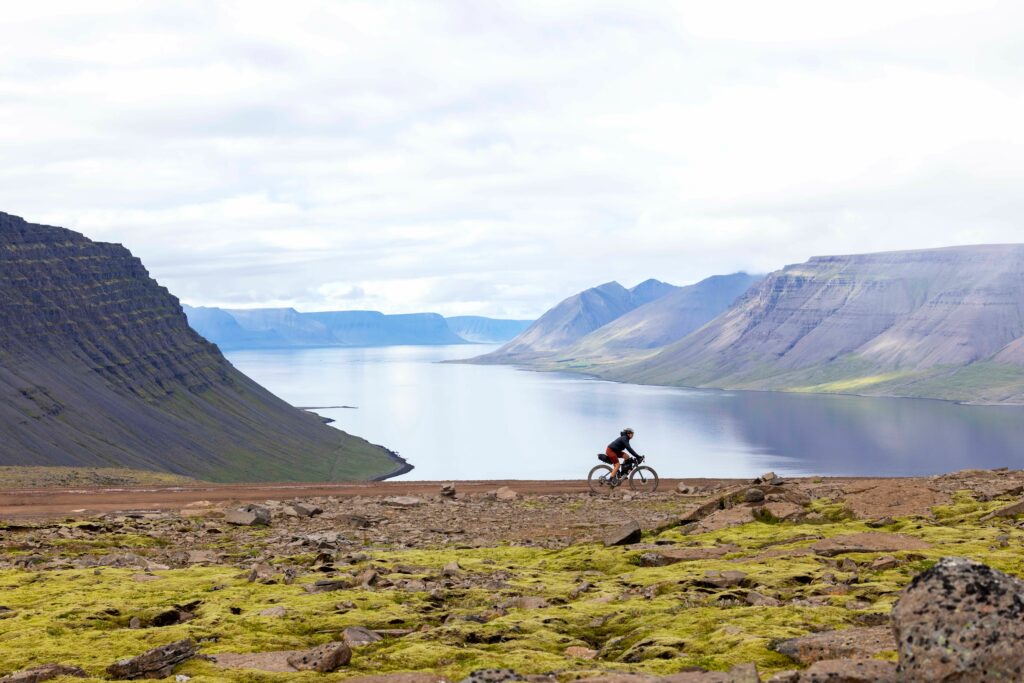 The idea for the WFWC came after Chris Burkard, Lael Wilcox, Rue Kaladyte, Payson McElveen and Nichole Baker established the bikepacking route for the Westfjords Way in September 2021. Together with local riders and cycling organization Cycling Westfjords, they discussed a vision for a stage race that would connect the region and bring a diverse group of local and international riders together while enjoying everything the Westfjords has to offer.
A race looking forward–
This is a brand new race, and a chance to do things right from the start. What does that mean to us?
First, we want to break down barriers that BIPOC (Black, Indigenous and People of Color) and femme, women, trans and non-binary (FWTN-B) athletes often face in the outdoor sports industry. With this in mind, we are:
Awarding two scholarships to cover race entry and travel for BIPOC athletes.
Reserving 10 additional registration spots for BIPOC riders.
Starting registration with a 50/50 split: Men/FWTN-B, to allow more space for historically underrepresented groups in cycling.
Partnering with our communities to increase representation from underrepresented groups.
We used gendered registration to limit the number of men that could register, and will survey registered riders to determine how they would like to compete (whether that is by skill level or through gendered categories).
Next, we want our event to bring the Westfjords region together in a way that encompasses culture and local knowledge/representation and provide space for cultural exchange for our riders. With this in mind, registration opened early to Icelandic riders, and will represent 25% of the total race field. With Arna, an Icelandic lactose free milk company based out of the Westfjords, as our title sponsor, we're proud to keep the event one that is community supported and brings the region together through sustainable tourism
To help represent and promote the race, we are proud to present a team of accomplished Icelandic and international athletes who are representative of the cycling community:
Registration launched internationally on January 25, and the men's category sold out within an hour! But there is still space left on the starting line for femme, women, trans and non-binary (FWTN-B) riders. This race is the perfect opportunity for experienced and new (but determined) riders alike– it will test physical and mental limits, but even some of the race's sponsored riders only started gravel riding within the last year. We hope to encourage more FWTN-B riders to sign up for this exciting opportunity. While some may choose to race it, it is also encouraged to ride the event in a way that resonates with you.
The unique setup of the race, the unbelievable location and opportunities for connection with local culture and other riders make this race truly unique. Our hope is that by selling out our FWTN-B registration category (whether that happens this year, or next year), we can host an event that paves a new chapter in cycling history: one that promotes and practices inclusivity for all people, and encourages a meaningful interaction with people and place.
You can get involved by sharing information about the race with your cycling circles. Riders who are interested can register here. Race updates are shared via cyclingwestfjords.com, Facebook and Instagram.
About Us
The Westfjords Way Challenge is Iceland's first self-supported ultra-endurance stage cycling race. The event prioritizes cultural connection through Icelandic rider representation and required stops at natural and cultural points of interest to complete each stage. The race is also committed to holding space and providing opportunities for historically underrepresented communities in the outdoor industry including BIPOC (Black, Indigenous and People of Color) and FWTN-B (femme, women, trans and non-binary riders). The race follows the mixed road and gravel route of the Westfjords Way for a total of 960 km over 5 days, and will take place from June 28 – July 3, 2022.
Media Contact: Lynnee Jacks / cyclingwestfjords@gmail.com/ +1 (619) 309-8889
*All photo credits belong to Rugile (Rue) Kaladyte